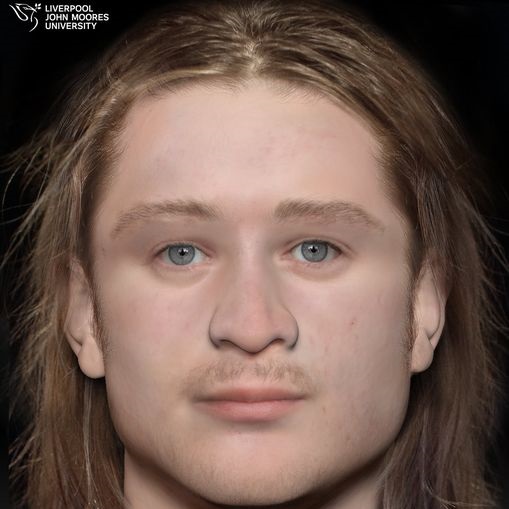 Can you help us name the man of West Stow?
Thursday 14 April 2022
Around the year AD700, something unusual happened. The people of West Stow buried a young man and woman in the settlement, near an entrance formed by two ditches. We believe these burials may have been intended to strengthen the ancestral bond to land felt by the people who lived and farmed at West Stow for nearly 300 years.  

We can now reveal the facial reconstruction of the young man in grave 1, thanks to Face Lab, a forensic and archaeological research group at Liverpool John Moores University.
He was aged 16-20 years when he died. He was 161.61cm tall (5'6") and he was born with his left arm was shorter than his right. The years before his death were probably painful. He fractured a rib and his left tibia (shinbone). His rib developed chronic osteomyelitis, a severe infection of the bone and bone marrow. The fracture to his tibia was unstable and probably refractured and partially healed repeatedly, leaving him with a limp and in pain.  
He has a face. He now needs a name... Your vote counts!
At about the time this man lived at West Stow Anglo-Saxon personal names were often made up of two parts or 'themes' put together to make one name. For example the name Ealdwulf (king of East Anglia AD664-713) is made up of Eald (meaning old) and Wulf (meaning wolf). 
Below is a list of themes thought to have been popular at that time, and their meanings. We would like you to vote for the two you think should be used to name the man of West Stow.
You can vote over on our Facebook and Instagram pages, and in the West Stow Visitor Centre, until Monday 25 April.
We will then create up to 4 choices for the final round of voting.
You have until Monday 25 April to vote in this first phase... 
beorht  (bright)
sige (victory)
wulf (wolf)
raed (counsel/advice)
ead  (wealth/happiness)
mund (hand/protection)
wald (forest)
wine (friend)
frið (peace)
helm (protection/cover)
eald (old)
beorn (warrior)