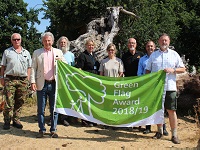 A new winner as West Suffolk parks raise the flag
Monday 16 July 2018
With the school holidays starting soon, there is great news for residents across West Suffolk with news that five of its parks have been awarded Green Flags.
The Green Flag scheme is run by Keep Britain Tidy and is awarded to parks and that are safe, clean and well looked after.
For the first time, Aspal Close Nature Reserve in Mildenhall has been awarded Green Flag status, while the Abbey Gardens in Bury St Edmunds, East Town Park in Haverhill, Nowton Park and West Stow Country Park have all retained the prestigious award for the seventh year in a row. While West Suffolk councils also took over the running of Brandon Country Park earlier this year, it was too late to put it forward for assessment and it is hoped that it will gain the award next year.
Cllr Andy Drummond, Forest Heath District Council's Cabinet Member for Leisure and Culture said: "We know, particularly at this time of the year, that residents of all ages enjoy getting out doors and enjoying spending time in our parks and open spaces. As well as being great for our physical health it is also good for our mental health as well. That is why we put every effort into making sure that they are places people can enjoy – that they are clean, safe and well maintained. We love where we live and that is why I am delighted that the nature reserve at Aspal Close has received this honour."
The Abbey Gardens meanwhile has continued to see more than 1.5 million visitors a year, while Nowton Park has become ever popular with regular park runs, charity and music events. West Stow has seen a huge increase in school visits in recent years while East Town Park saw an investment in new play equipment last year which has only added to its appeal.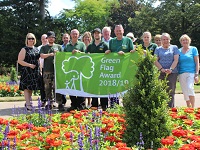 Cllr Joanna Rayner, Cabinet Member for Leisure and Culture at St Edmundsbury Borough Council, said: "We pride ourselves in recognising the value and investing in leisure and culture – from The Apex to our parks and open spaces, they all add to the reasons why people want to live and work in West Suffolk and enjoy their quality time here. Some of them such as the Abbey Gardens also attract visitors from outside of the area, which in turn has a positive impact on our local businesses and the economy. But for the residents we represent they are simply a place where people can go for a walk or a run, relax and enjoy time with their loved ones amid beautiful surroundings."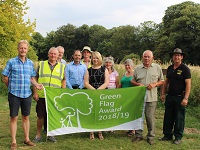 Activities will be taking place at parks across West Suffolk during the school summer holidays. To find out more visit www.whatsonwestsuffolk.co.uk