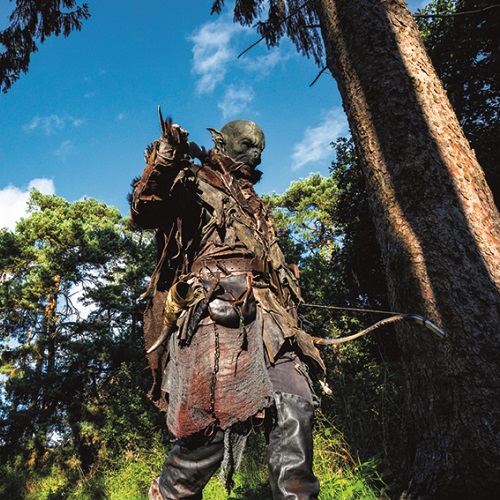 Ring Quest returns for its 20th anniversary celebration!
Wednesday 19 January 2022
Lord of the Rings at an Anglo-Saxon Village? Really?
Some of you may not be familiar with the links between Tolkien's Lord of the Rings and the Anglo-Saxons, in which case this event might at first seem a little unusual! But the more committed Lord of the Rings fans among you, or fans of Anglo-Saxon history for that matter, will already know that:
Tolkien served for many years as Professor of Anglo-Saxon at Oxford University
In the 1920s, Tolkien translated 'Beowulf', the Anglo-Saxon epic poem which is one of the most important texts in Old English (and of course the inspiration behind our Beowulf & Grendel Adventure Trail!) and in the 1930s he gave a seminal lecture, 'Beowulf: The Monsters and the Critics', which remains important to students of Old English to this day.
Tolkien took inspiration from his Anglo-Saxon and Old English studies when creating his literary world of Middle Earth and writing the Lord of the Rings trilogy – see 'The Road to Middle-earth: How J. R. R. Tolkien Created a New Mythology' by Tom Shippey for some extra reading!
'Middle Earth' is even used in the Anglo-Saxon story 'Beowulf'… find the Burnt Hall on our Beowulf & Grendel Trail to read a verse which refers to "people within this Middle Earth!"
Tolkien chose to use Anglo-Saxon runes, rather than Viking versions. Here at West Stow we also use Anglo-Saxon runes - look out for them on the houses and the Beowulf & Grendel adventure trail.
Plus, the archaeological site of West Stow traces back through layers of history - something which appealed to Tolkien himself.
Ring Quest returns to West Stow in the 2022 February half term for its 20th anniversary celebration!
Join us between Thursday 17 and Sunday 28 February, and explore Tolkien's world in this Lord of the Rings themed family challenge...
In February 2002, the first ever Ring Quest event took place here at West Stow Anglo-Saxon Village. Ring Quest has always been a family friendly event, awakening all ages to the special magic that is Tolkien's world. Now, 20 years on, Ring Quest will celebrate this milestone with an event that's bigger and better than ever!
As always, the quest – with Tolkien themed clues to decipher and runes to decode – will still be central to the event as you explore the Anglo-Saxon Village and Country Park, and this year the grand prize will be a 2 night stay at the incredible Pod Hollow! 
This year, each advance booking for Ring Quest will receive 1 free Ring Quest pack (including rune quest, maps, etc) to be collected on the day (1 pack per booking, worth £2.50)! Additional packs can of course be bought on the day if you'd like one per child or participant.